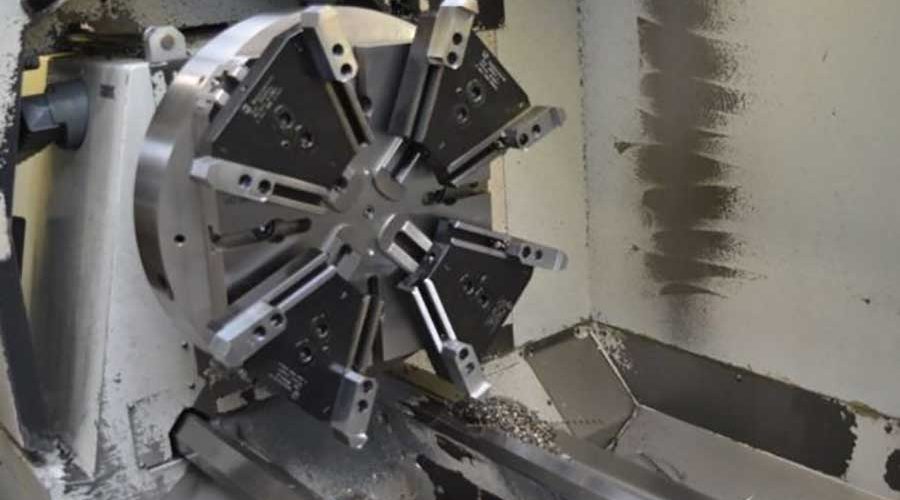 Satisfied and confident, success with 8 clamping points
KSB Aktiengesellschaft is one of the leading suppliers of pumps, valves and related services. Based in Pegnitz in Franconia, 1,600 employees both research and work on ultra-modern pump technology and industrial/power plant valves. The plant also has its own foundry. Just recently INOFlex® chucks combined with INOZet® pendulum bridge chucks have come to be used in the valve factory shop.
Modern manufacturing increasingly involves processing thinner as well as asymmetrical parts. This is also true at the valve factory shop of the KSB plant in Pegnitz. "We clamp a lot of thin-walled parts as well as even misshapen, non-symmetrical ones", says Heribert Sier, Head of the Valve Factory Shop. "We used to deal with this using a traditional 4-jaw chuck or 3-jaw chuck." In particular with thin-walled parts, high clamping pressures and a lack of compensation can lead to substantial deformation. As a result, clamping the workpieces is very much a challenge – all the more so since KSB places exacting requirements on machining quality and precision. Lengthy set-up times result accordingly.
THE COMBINATION OF INOFlex® AND INOZet® REDUCES SET-UP TIMES
When researching on the internet, Factory Shop Manager Mr. Sier came across HWR Spanntechnik. To lower set-up times, KSB now uses the compensating, centrically clamping INOFlex® 4-jaw chuck. The patented chuck compensation prevents any over-determination of clamping points. However instead of four clamping jaws, INOZet® pendulum bridges are mounted – thus doubling the number of clamping jaws used to eight. The pendulum bridges also ensure compensating clamping. "We are delighted with the INOFlex® and INOZet® combination", this is how Mr. Sier sums up the new development. "As we have 8 instead of the usual 3 clamping points and due to integrated compensation, we can direct the clamping pressure more evenly and with less deformation into the component."
RAPID AND PRECISION HANDLING
Combined automatic compensation of the clamping from two clamping devices ensures simpler handling and, in particular, shorter set-up times – especially in the case of thin-walled workpieces.
Special clamping jaws are not necessary here: INOZet® covers the entire clamping range with its default clamping jaws. Furthermore, asymmetrical workpieces pose no problems since the patented compensation of the INOFlex® clamping chuck also centrically clamps any misshapen parts. "We are very impressed by the chuck and highly delighted with it", concludes Factory Shop Manager, Mr. Sier.