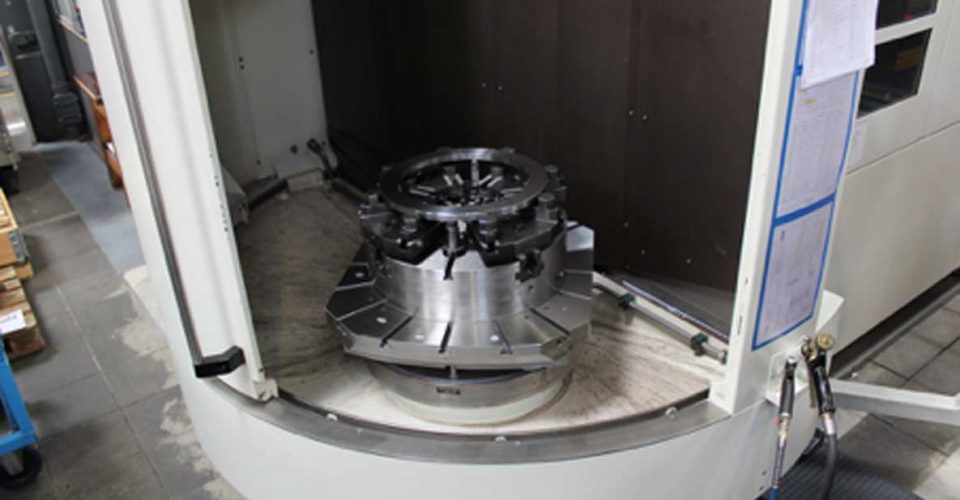 Grob Werkzeugmaschinen introduces INOFlex® into its own production
The GROB-WERKE headquartered in Mindelheim, is a globally operating family company with a family culture that has been deeply anchored for generations. The 5,300 employees worldwide manufacture items from the universal machine, complex manufacturing systems and assembly units in a metal-cutting line through to fully automatic assembly lines. Customers look upon GROB machines and systems solutions as a standard for precision and reliability.
That is why for the Grob company it is natural to constantly improve and develop its own production.
The Atos company brought the INOFlex® chuck to the attention of Mr. Frühschütz who is responsible at GROB for tool management. The Atos company from Memmingen, acting as the base trader for HWR, presented the INOFlex® chuck to the GROB company and clearly pointed out the advantages and savings potential for the company's own production to Mr. Frühschütz.
Messrs. Maniscalco (HWR), Schmalz (Atos) and Frühschütz (Grob) had their work cut out to convince the company of the necessity of launching the INOFlex® chuck into GROB's production.
The Hercules task for the three was to convince the GROB decision-makers at GROB that a compensating chuck existed which clamps centrically and has just as much gripping power as a 3-jaw chuck and partially with greater precision.
After a further demonstration by Mr. Maniscalco (HWR) in front of some 15 employees, it became clear that a size 500 mm INOFlex® chuck and additionally an INOZet® pendulum bridge would be purchased.
The INOZet® pendulum bridge has created a compensating pendulum 8 jaw chuck out of the compensating INOFlex® 4-jaw chuck. A solution, in fact, which has ""overtaken" the widely-found 6-jaw chuck.
A component manufactured up that time involving a considerable outlay was to be the test part. Mr. Schaufel, monitoring the project as the foreman, immediately improved concentricity from 0.3 mm to 0.02 mm.
Quote: "We are delighted with the INOFlex® chuck."
We economised on expensive sanding-down straight away. Furthermore, this chuck requires hardly any maintenance, as it is excellently sealed even when cast machining is involved."
Even though at the beginning it was an effort to win the employees over to the benefits of the INOFlex® chucks, it allowed GROB to save on costs in production from the start. "We will continue down this path, and more INOFlex® chucks will be integrated into Grob's production", according to Mr. Frühschütz, who looks forward to continuing to work together with both Atos and HWR.